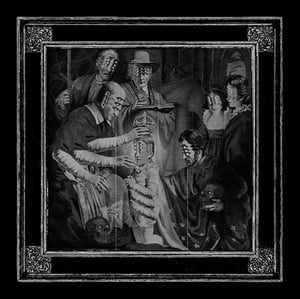 $

8.00
A year after their debut album 'Of Void & Solitude', Crimson Throne have made a new offering.
The two track 7" was recorded & mixed by ally Misha Hering at Holy Mountain Studios. Mastered by Magnus Lindberg of Cult Of Luna (Tribulation, Refused, Russian Circles, Bossk, Inhuman Nature, etc..).
Artwork collaboration with Felipe Froeder (Arcano XV).
1. The Resilience Of Life
2. & Death
'Though our current landscape shifts in what often can seem utterly despotic at times. This record is a reflection on the past, through referencing stark examples. In a history as littered was ours with such vast and varying amount of recorded examples of kings, queens, nobles & rulers, etc. Whom have lost themselves fully, many in tragic cases, on loosing themselves to illness both mental or/and physical, can be harm enough, but when in positions of great often unregulated power. This unbalance has cost many lives of those who are not of the ruling class, time is circular.'
• Limited Run of Black 7" 42g Vinyl
• Reverse matte board sleeve
Released by Apocalyptic Witchcraft (EU) & Red River Family (US).
Pre orders are available now on the above labels, Seasons Of Mist (US) & Plastichead. Digitally available on Bandcamp & all main digital platforms.
Release Date: November 8th 2019
Release live dates:
8.11.19 - London, The Unicorn. w/ Internal Bleeding, The Infernal Sea, Sidious & Lost Brethren.
9.11.19 - Birmingham, Scruffy Murphys. w/ The Infernal Sea, Warlord & Lost Brethren.
10.11.19 - Leeds, Temple Of Boom. w/ The Infernal Sea, Lost Brethern, Ba'al & Fatalist.
11.12.19 - Bristol, Exchange. w/ Spectral Voice & Cryptworm